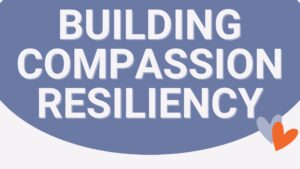 Caring professions, like teaching, nursing and social work, require empathy and compassion and often expose workers to secondary traumatic stress from working with students and clients who've experienced trauma. Exposure to secondary traumatic stress can lead to compassion fatigue and burnout, a state of emotional, mental and often physical exhaustion brought on by prolonged or repeated stress. Over the past two years, caring professionals  have had to help others cope with the collective trauma caused by the Covid-19 pandemic, often in under-staffed and highly stressful work environments, while trying to manage their own health and well-being and that of  their families. This has lead to significantly higher rates of compassion fatigue and burnout amongst teachers, social workers and nurses, leading many to retire early or quit the field. 
To continue our mission of promoting hope, healing and resiliency through trauma-informed practices, Resilient Lehigh Valley hosted a train the trainer workshop on Building Compassion Resilience on August 9th and 11th. The two day workshop was split into four sections and helped attendees define compassion resilience, learn the driving factors of compassion fatigue versus drivers of resilience, understand workplace resilience-building strategies, and maintain personal wellness. Attendees were provided a Compassion Resilience Toolkit and taught how to utilize it to build compassion resiliency in the workplace, through policy, practice and culture.
Following the training sessions, we assessed the workshop's success through participant evaluation forms. Post-trainings, 94% of all attendees strongly agreed that they would utilize resources and activities found in the Toolkit in their workplace and felt driven to promote compassion resilience amongst their co-workers. All participants strongly agreed that they thought the training facilitators were professional, engaging, and knowledgeable on compassion resiliency and 94% strongly agreed that the instructors created a safe and supportive learning environment that they found conducive to their overall workshop experience. 65% of participants strongly agreed to having a better understanding of compassion resiliency, and 82% strongly agreed that they are now confident in their ability to promote its principles within themselves and throughout their organization.  
The data collected through these evaluation forms show the success of our Compassion Resilience workshop and its positive impact on participants. Participants left determined to enhance their compassion resiliency and that of their co-workers to create a healthier, more stable work environment that benefits them and those in their care.