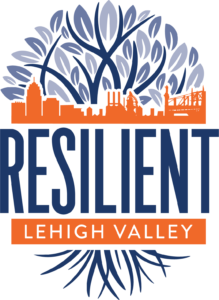 To help achieve Resilient Lehigh Valley's goal of advancing a trauma informed schools movement, back in 2019 we invited teams from Intermediate Units 20 and 21 to be trained as trainers in trauma informed schools, with the intention of them sharing this training with Lehigh Valley educators. Within Pennsylvania, Intermediate Units function as regional educational service agencies, providing schools and districts with needed training and technical assistance as well as providing behavioral health services for students in need of these services. Now in 2023, our training cohort team members from Intermediate Unit 20 have used what they've learned to create trauma informed school training curriculum, share this training with educators in Northampton, Monroe and Pike Counties, advocated for schools to adopt a trauma informed approach, addressed staff wellness and secondary trauma, and instituted trauma informed practices within their own student support services. 
Additionally, these training cohort members also advocated for the IU 20 Resolve Behavioral Health Department to become a trauma informed department, ensuring that the department is operating in a trauma informed way from policy to practice to the physical space. IU 20 operates the Resolve Behavioral Health Services model, which provides a comprehensive continuum support service network which utilizes a collaborative approach to the provision of mental health services for the clients served. This collaborative approach involves all possible entities in the planning, development, and ongoing provision of mental health services, including the client, the family, the school, the Intermediate Unit, county Mental Health/Early Intervention/Developmental Programs, the Office of Children, Youth and Families, Juvenile Probation, drug & alcohol treatment agencies, and any other public or private providers involved with the client's care. Many students who have experienced childhood trauma struggle with mental and behavioral health challenges, and benefit from the services that Resolve can provide.
Knowing that many students they serve are trauma impacted, and in the interest of furthering their commitment to trauma responsive care, lead CIU 20 and Resolve to purchase Creating Presence, a new online organizational and clinical approach for creating trauma informed, trauma responsive and trauma resilient organizations, developed by Dr. Sandy Bloom. Presence stands for: Partnership and Power, Reverence and Restoration, Emotional Wisdom and Empathy, Safety and Social Responsibility, Embodiment and Enactment, Nature and Nurture, Culture and Complexity, Emergence and Evolution. One member of the training cohort, IU 20's Director of Resolve Behavioral Health Services, Jim McDonald, joined with others in his department to partner with Creating Presence, beginning a two-year initiative that works to train and certify staff in trauma-informed care. For McDonald, prioritizing trauma-informed care throughout Resolve and beyond is key to addressing the needs of and removing barriers for students, their families, and fellow staff members.
"We have a passion for helping kids and families, and we recognize that trauma is a critical factor that needs to be identified, addressed, and tended to for many, if not most, of our families. Equally, our staff needed a better working understanding of [trauma], and we knew that at the time. We've continued to help our staff gain knowledge in those prerequisite areas. As time has passed, we've recognized that our staff, in working with those populations, are also very susceptible to their own experiences and traumas. Caregiver burnout, compassion fatigue— trauma-informed care as an initiative has become one of the centerpieces of our work with kids here at IU 20," said McDonald. 
Prior to the Pandemic, staff that participated in Resilient Lehigh Valley's trauma informed care training cohort typically had what McDonald calls a "lightbulb moment" that answers the "why" when it comes to understanding student behavior. This foundation is imperative for helping kids manage their behavior in healthier and more effective ways. This often led to a significant shift in staff members' perception of student behavior and the students themselves.
Since beginning to offer training in Trauma Informed Care to our local school districts, we have trained the following districts, their schools and their staff within those schools:
Bangor SD:  Washington ES, Bangor HS, Five Points ES, DeFranco ES

Delaware Valley SD: Delaware Valley HS

East Stroudsburg SD: Bushkill ES

Pen Argyl SD: District-wide (all staff)

Pleasant Valley SD: District-wide (all staff)

Pocono Mountain SD:  Clear Run EC, Tobyhanna EC, Swiftwater EC, Clear Run Intermediate, Swiftwater Intermediate, PM East Jr HS

Saucon Valley SD: Saucon Valley MS, Saucon Valley HS

Stroudsburg SD: Stroudsburg MS

Wilson SD: District-wide (all staff)

Career Institute of Technology Vo-Tech

St. Jane Frances de Chantal School

Learn-N-Play Daycare

LVCHS for the Arts
With a trauma informed lens, staff are more patient and empathetic and approach students from a place of deeper understanding, working to develop a much more robust, safe relationship with them than they ever could before. As we shifted from virtual service provision during the Pandemic back to in-person services, we noticed kids and adults were more reactive and often dysregulated than ever before. This led to our decision to partner with Creating Presence and to embark on this two year journey that would place Trauma Informed Care as one of the pillars that defines our work with kids, families and each other.  Understanding that while trauma harms, healthy relationships heal. Overall, the trauma-informed care training has helped staff to improve their ability to build better relationships with each other, their students and their families.