It's no secret that stress changes us. From physical ailments like headaches to irritability and behavioral changes, stress impacts the body in unfortunate ways. One major stress trigger is unresolved trauma. Trauma has a lasting, negative impact on those directly experiencing it, but it is also detrimental to people experiencing it secondhand.

Alicia Creazzo, Community School Coordinator from Broughal Middle School, knows teachers take on their students' trauma every day and face it with a smile. A few years ago Broughal began its student-focused trauma-informed journey with the support of training and resources from Resilient Lehigh Valley. Alicia soon recognized that the school's staff also needed access to mental health resources. Broughal students have mindfulness resources and a peace room to go to when feeling overwhelmed, but the teachers were in need of the same support. School administration agreed and created the Healthy Staff, Happy Staff initiative.
Since the program launched in March 2020, the staff only experienced one in-service day of training before school went virtual due to COVID. The initial training focused on self-care initiatives, the impact of secondary trauma, and methods to cope with stress when time is limited. Additionally, at that time the school announced its partnership with Lehigh Valley Health Network for the 2020 Volunteer Challenge with a goal to revamp a space in the school into a dedicated, quiet location for administration, teachers, and custodians to practice mindfulness.
Despite delays due to the shutdown, construction began in the summer of 2020. The room was finally virtually revealed to staff in February 2021. Named "Launch Pad" as a nod to the school's mascot, Rockets, the room features massage chairs, noise-canceling headphones, puzzles, coffee, and more. Staff can visit during their free time.
While the initiative was spearheaded prior to the pandemic, its importance has only increased as teachers struggle with higher stress levels. Last August, the National Education Association, a major teachers union, found that 28% of educators said the pandemic made them more likely to leave teaching, making mental health a top priority for schools.
"The Launch Pad is a space where we (staff) can catch our breath and try to rejuvenate ourselves. So much of what we do involves the energy we bring into the classroom. One day I was in a funky mood, and a few students noticed. Before heading into the cafeteria to pick up my 7th period from lunch I took a 10-minute break in the launch pad," reflected Michael Weiss, a seventh-grade teacher at BMS. "I sat in the massage chair and listened to the sound of loons while doing a personal body scan, letting go of tension as I found it. As I picked my students up to go to class, one smiled and said 'There's that Mr. Weiss energy.' We're not always going to be at our best. The Launch Pad provides an opportunity to step out of the teacher role and tend to ourselves, such that we can tend to our kids and indirectly improve their classroom performance."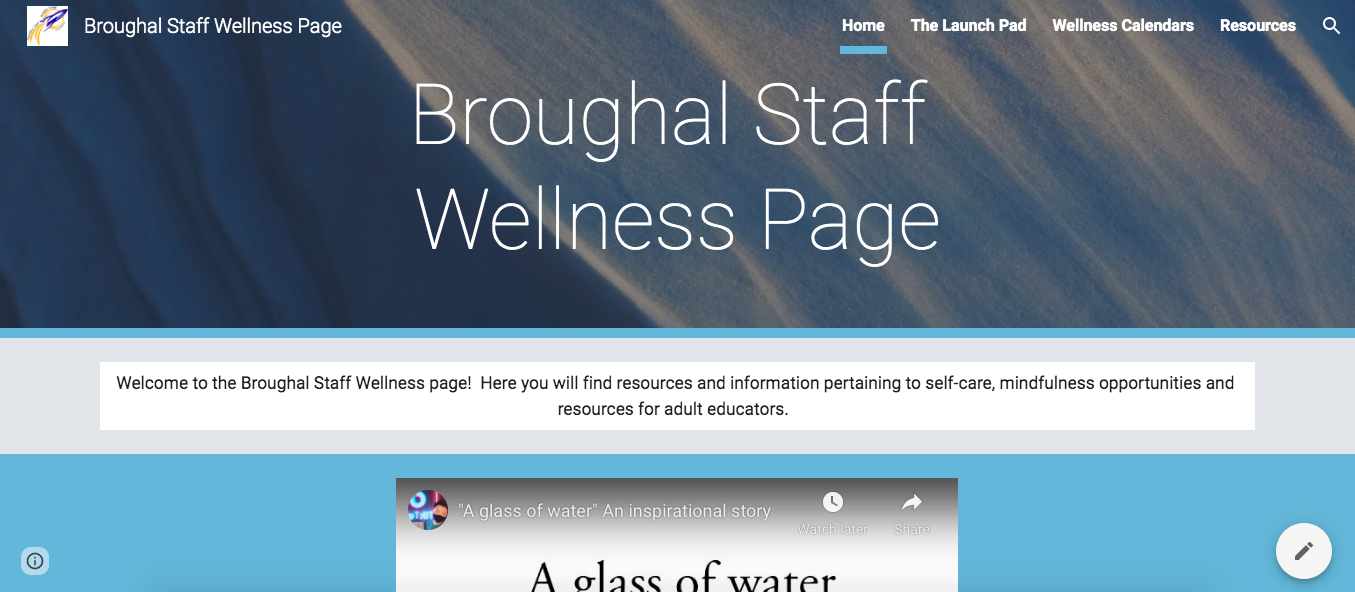 Alicia didn't stop there. Healthy Staff, Happy Staff also includes an online wellness site strictly for staff with links to mindfulness resources, monthly wellness calendars, self-care opportunities, Resilient Lehigh Valley toolkits, Shanti Project, and Bethlehem Area School District's Wellness Wednesdays. Resources include self-led and group wellness activities. 
"With everything our staff handles, it can be hard for them to prioritize themselves, especially when it comes to self-care. Broughal is working hard to partner with community organizations like Resilient Lehigh Valley to give staff as many self-care resources as possible," said Alicia.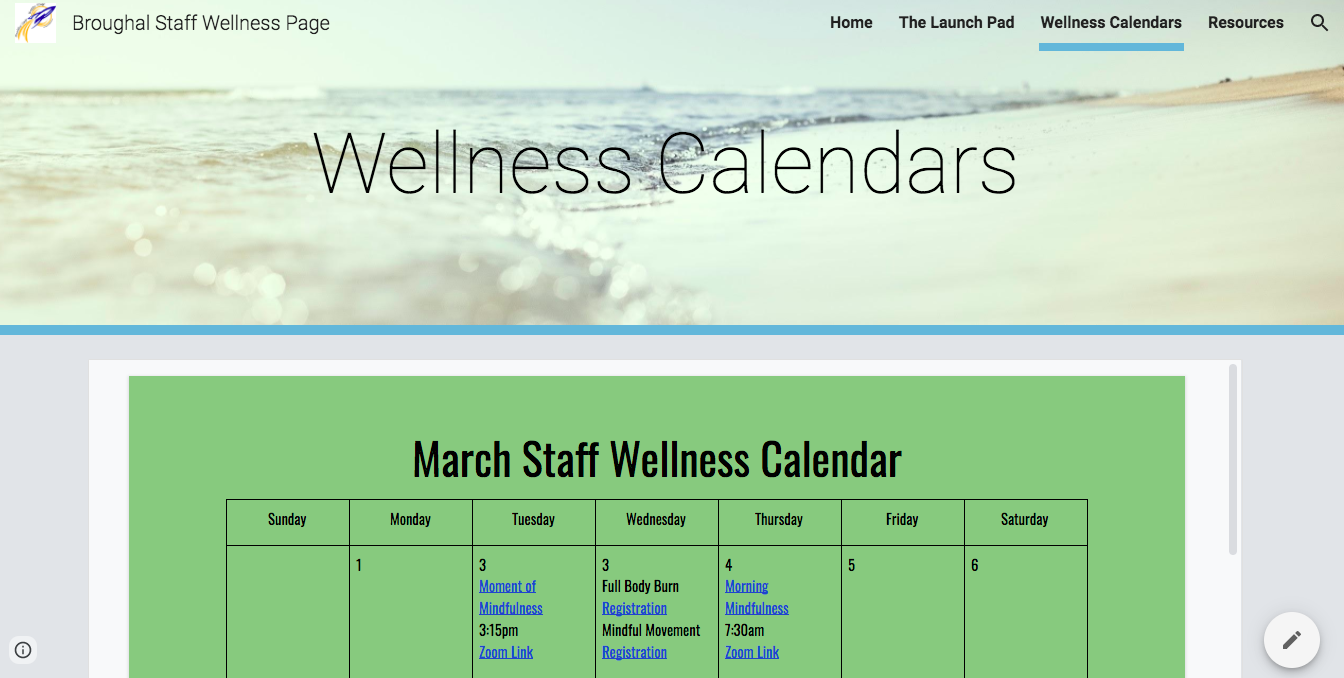 "Information about the benefits of mindfulness, why it's important, and negative impacts on neglecting your own mental health helps our staff better prepare to take advantage of self-care opportunities. After all, happy staff leads to happy students as well."
Broughal is currently taking steps to train staff in mindfulness and trauma-informed practices through a partnership with Pinebrook Family Answers thanks to funding from the United Way of the Greater Lehigh Valley. Training will include identifying trauma, self-care steps to take when experiencing trauma, and bridging the gap between access to resources and taking advantage of them. 
"The Healthy Staff, Happy Staff initiative is a powerful start to ensuring school staff is equipped to handle the many repercussions from trauma, including vicarious, secondary trauma," states Beth Tomlinson, Senior Director of Education with United Way of the Greater Lehigh Valley and co-founder of Resilient Lehigh Valley.
Resilient Lehigh Valley is proud to offer the resources and training school staff needs to practice mindfulness and gain a sense of peace.