Zero Youth Violence is a city-wide collaborative violence-reduction program in Allentown, PA, and part of Promise Neighborhoods of the Lehigh Valley's (PNLV) mission to create safe, healthy, and vibrant neighborhoods in the Lehigh Valley for the success of children and their families throughout the community. 
 Zero Youth Violence (ZYV) is committed to breaking the cycle of violence and reducing the number of youth homicide victims down to zero. PNLV views violence as a public health epidemic and as an organization, works to stop the spread of violence and strengthen the resiliency of individuals, families, and communities throughout the city.  
Across all demographics, look at all the surveys that have been done, all the focus groups, regardless of race, of age, regardless of income– violence and safety is the number 1 issue to everyone across our community, youth violence specifically," said Dr. Hasshan Batts, director of PNLV. "It is our job to keep our youth safe, it is our job to teach them how to problem solve and resolve conflict without violence. If we don't do that, it impacts everyone and things will just get worse, so it is important for us to invest and commit to changing this culture of violence that exists in the country.
 By addressing youth violence at every level, ZYV works to serve survivors, perpetrators, and high-risk individuals in ways that support them the most. Zero Youth Violence's Violence Interrupters follow an adaptation of Cure Violence Global's 3-step violence reduction procedure. 
Violence Interrupters detect and interrupt violence at its root, connect high-risk individuals with the program's Outreach Workers, and work within the community to change social norms that incite violence.
 Youth at risk of becoming perpetrators are referred to ZYV through school counselors, parents, community members, or self-referral. ZYV sets participants up with Outreach Workers who focus on changing violence-associated behaviors. Outreach Workers track participants' behavioral development progress, create risk-reduction plans, and connect them with any additional services and resources if needed. 
"Growing up younger and having some of those traumatic experiences, I didn't know how to channel my energy. I was angry. I was explosive." said Rodney Bushe, Mentor at Zero Youth Violence. "It wasn't until I had mentors to kind of guide me along and kind of help me channel that energy into getting better grades and do sports and do art, and really having a space to express my feelings." 
The program also serves those in the community who are survivors of violence. To support survivors, ZYV provides them with social, economic, and other necessary resources to keep them safe from retaliation. They offer programs like their King's Court to help people reassimilate into society after being institutionalized.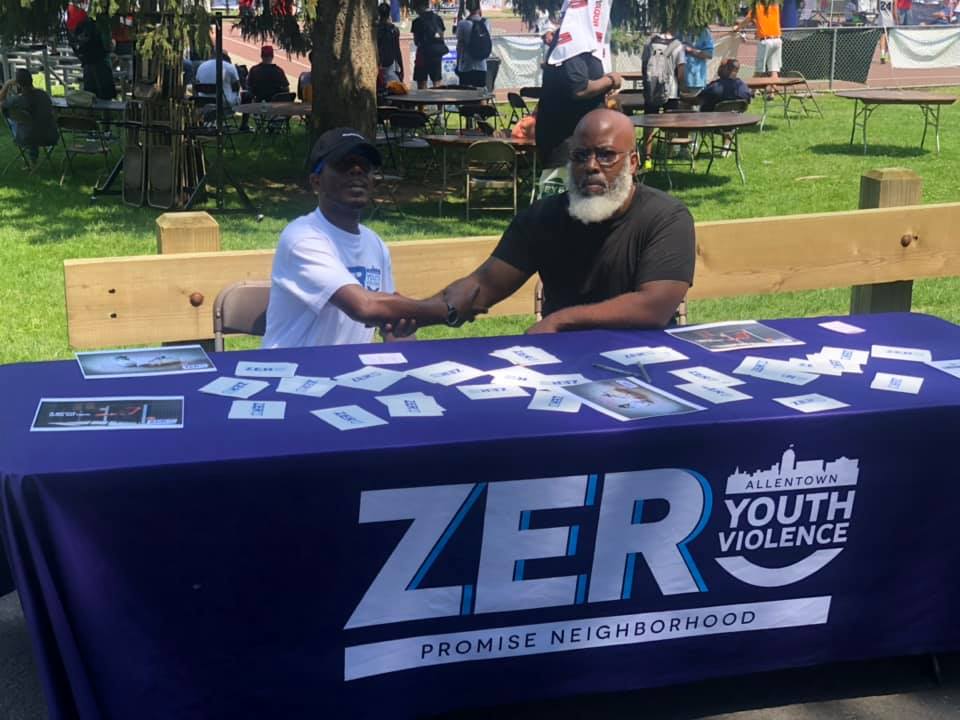 Changing societal norms regarding violence is the key to primary prevention. Zero Youth Violence works hard to make its message heard throughout the community by staying active on social media, handing out flyers, and participating in local events. It's all about raising awareness. The support and resources provided by ZYV have changed the lives of high-risk individuals throughout Allentown, helping them cultivate lifelong skills that bolster resilience and allow them to build a sense of agency.
Trauma is the root cause of violence, and in partnership with Resilient Lehigh Valley, ZYV prioritizes trauma-informed care for those affected by or at risk of violence. Family participation in ZYV programs is critical to healing intergenerational trauma. In addition to personalized trauma-informed care, ZYV invites families to attend trauma-informed workshops and training sessions such as T.R.E.E. Training to help manage generational trauma. Being able to heal and learn about ending the cycle of abuse and trauma together allows for post-traumatic growth and helps to prevent maladaptive behaviors from being passed down to future generations.
The Zero Youth Violence program is designed to increase hope, agency, and a sense of belonging for survivors, high-risk youth, and families alike. By helping participants learn to make smarter decisions in their lives and the community, Zero Youth Violence can help reduce trauma, violence, and youth homicides throughout Allentown.
Help Allentown's youth thrive! Click the link to support Zero Youth Violence.