RESOURCES
Trauma-Informed Toolkit: Family Mindfulness Schedule
Trauma-Informed Toolkit: Mindfulness – Family Mindfulness Schedule
Parents can help children achieve mindfulness by modeling mindfulness themselves, or by teaching their child to focus on the present moment. Take a few moments with your child when you wake up to explore the morning through your senses and do a quick body scan, noticing the sensations in each part of your body. Rather than rushing through meals, eat slowly, and mindfully recognize how the food looks, tastes, and smells. Promoting creativity and mindfulness teaches children how to cope with anxiety and everyday stressors they will deal with for the rest of their life. For resources on bringing mindfulness into your day and building your trauma-informed toolbox, click below. 
Family Mindfulness Resource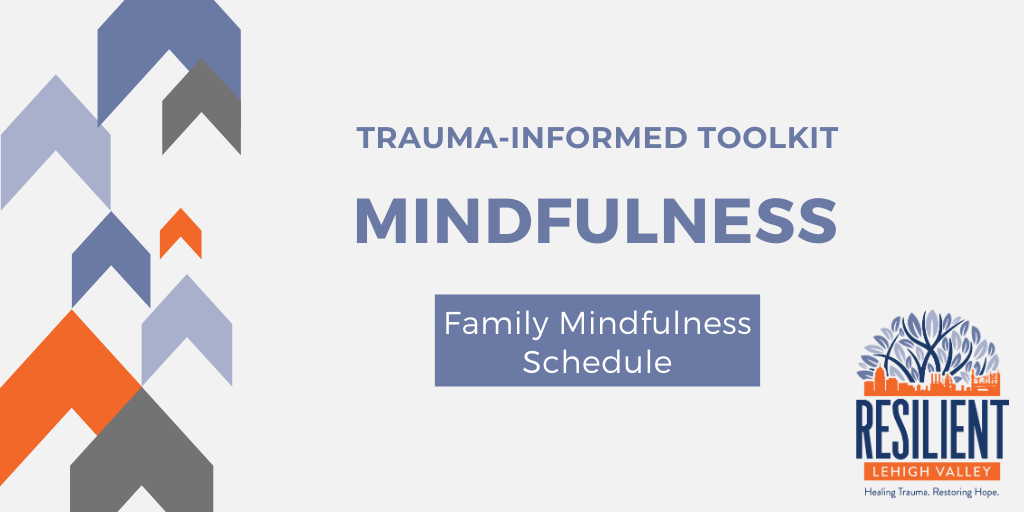 Get Involved
Sign up for our newsletter
Follow us on social media
Join one of our four action teams or the full coalition
Join now
Be a champion for trauma informed care and systems in your own community!